Saturday, October 27, 2018, 7:30 AM - Sunday, October 28, 2018, 8:00 PM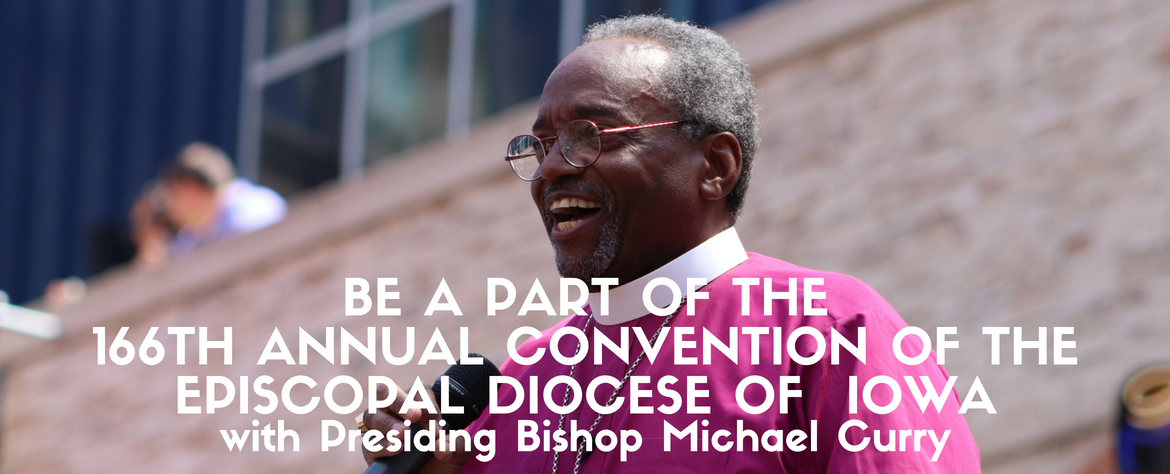 We invite you to join us for the 2018 Diocesan Convention! The convention is free to visitors and you can choose to pay only for the meals you wish to eat. Attend the sessions which are of interest to you. There will be three chances to Worship:
7:00 PM Friday Eucharist at St. Paul's,
4:00 PM Saturday Evensong at St. Paul's
11:00 AM Sunday Eucharist at the Downtown Marriott, with the Presiding Bishop Michael Curry giving the Homily.
For more information visit www.dioiowa.org/convention.
Consider volunteering to welcome people at the Cathedral or the Marriott on Friday, Saturday, or Sunday. Click here to sign up!
Convention Schedule
Friday, October 26 (at Cathedral Church of St. Paul)
1:30 PM Clergy Registration
2:00 -5:00 PM Clergy Only Gathering
4:00 PM Early Registration for ALL
5:00-6:30 PM Dinner (Ticketed)
7:00 PM Gathering Eucharist, Presiding Bishop Curry Celebrates
Saturday, October 27 (at Marriott)
7:30 AM Registration open
8:00 AM Exhibits open
8:00 AM Breakfast (Ticketed)
9:00 AM Plenary One
11:00 AM Plenary Two Bishop Scarfe's Address
1:00 PM Lunch available
2:00 PM Plenary Three Presiding Bishop's Address
4:00 PM Evensong at Cathedral Church of St. Paul
5:00 PM Diocesan Choir practice at Marriott
5:30 PM Social Time (Marriott)
6:00 PM Welcome
6:15 PM Question & Response with Presiding Bishop Michael Curry
7:00 PM Buffet dinner
Sunday, October 28 (at Marriott)
7:00 AM Breakfast available
8:30 AM Plenary Four
11:00 AM Sending Eucharist, Presiding Bishop Curry preaches (live streamed to all churches in Episcopal Diocese of Iowa)
1:30 PM Clergy Registration
2:00 -5:00 PM Clergy Only Gathering
4:00 PM Early Registration for ALL
5:00-6:30 PM Dinner (Ticketed)
7:00 PM Gathering Eucharist, Presiding Bishop Curry Celebrates